About Airco Power Services
Airco began in 1994 as an Industrial Maintenance contractor in Savannah Georgia supporting piping and mechanical services in the local industrial market.  Within a short time, Airco had their first opportunity to support Savannah Electric Power (now Georgia Power) at plant McIntosh.  After that successful project, Airco spread their support to other Georgia Power plants, Kraft and McManus.  This was the beginning of the successful growth of our steam and gas turbine field services along with other rotating equipment projects in both the power generation and the industrial markets.  Airco has built a solid reputation of quality and value for both our customers and employees.
In the fall of 2012 Airco was acquired by Azalea Capital, headquartered in Greenville South Carolina.  Azalea, realizing the long established history of service and quality, saw Airco as an avenue to re-emerge in the power industry with a reputable third party service provider coupled with a series of other investments covering multiple service lines.
Airco Power Services is proud of our long established relationship working with the United Brotherhood of Carpenters and Millwrights.  Our partnership gives us the ability to provide premium quality field services thus bringing true value add opportunities to our customers regardless of location across the country.  Airco Power Services is becoming the "go-to" third party turbine generator service company for quality, responsiveness, customer service, and overall value.
Airco's safety program centers on our Director of Safety & Health. Having over twenty-five (25) years of safety experience, an MS in Occupational Safety, being a Certified Safety Professional (CSP) and having written multiple safety programs for various companies he brings tremendous value to both Airco and our customers.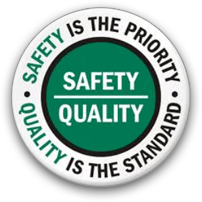 Airco is proud of our 2015 EMR rating of 0.75, which has been trending down for 4 consecutive years. Airco believes each project begins and ends with SAFETY therefore the success of each project is contingent on achieving ZERO incidents. We truly believe this to be an achievable goal and we take the steps necessary to obtain this goal on every project.
Airco's Director of Safety & Health actively participates in aligning our safety program with all involved parties including the owner, client and sub-contractors. Airco develops and implements specific on-site safety plans to address the specific work activities of each project.