About Airco Welding Services
AIRCO Welding Services ("AWS") was established in 2013 as an alternative resource for vendors who are seeking a specialty organization with a more personalized service at very competitive price. The Owners and Management have extensive industry experience in numerous markets with a primary focus in the Fossil and Nuclear Energy Sectors.
Our support services include, turn Key project solutions including management, quality, safety, scaffolding, labor, machine and manual welding services, pre and post weld heat treatment, and machining. Additional services offered are Emergent Project Mobilization and Execution, Oversight, Consulting, Supplemental Personnel Staffing, Scheduling, Work Package Writing, and Project Planning. AWS is committed to providing industry leading management and craftsmen held to the highest safety and quality standards while utilizing some of the industry's most innovative technology and techniques.
AIRCO Welding Services is a performance driven company providing a range of specialty machine and manual welding services to include Machining, Pre and Post Weld Heat Stress, Oversight, Consulting, Supplemental Personnel and turn-key project execution to world class Utilities, Prime Contractors and OEM's.
Airco's safety program centers on our Director of Safety & Health. Having over twenty-five (25) years of safety experience, an MS in Occupational Safety, being a Certified Safety Professional (CSP) and having written multiple safety programs for various companies he brings tremendous value to both Airco and our customers.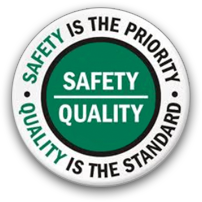 Airco is proud of our 2016 EMR rating of 0.75, which has been trending downward for 5 consecutive years. Airco believes each project begins and ends with SAFETY therefore the success of each project is contingent on achieving ZERO incidents. We truly believe this to be an achievable goal and we take the steps necessary to obtain this goal on every project.
Airco's Director of Safety & Health actively participates in aligning our safety program with all involved parties including the owner, client and sub-contractors. Airco develops and implements specific on-site safety plans to address the specific work activities of each project.
Project Safety Objectives
Airco instills safety vision, values, & policies in our leadership, employees and work plans
Safety roles & responsibilities are clearly communicated with all personnel.
Integrated safety principles are utilized with all work activities
Lesson-learned applications are captured for process improvement
Safety audits/peer reviews by Airco Superintendents, Site Safety Professionals, Director of Safety continues our pro-active approach to zero incidents and accidents.
Project Safety Orientations
Airco develops specific on-site safety orientation programs to familiarize all personnel with new & existing hazards involved with our jobs.
Safety orientation clearly communicates expectations from both Airco and Client for the project
Benchmarking with other Airco projects and similar industries