Airco's safety program centers on our Director of Safety & Health. Having over twenty-five (25) years of safety experience, an MS in Occupational Safety, being a Certified Safety Professional (CSP) and having written multiple safety programs for various companies he brings tremendous value to both Airco and our customers.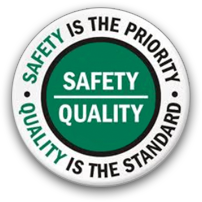 Airco believes each project begins and ends with SAFETY therefore the success of each project is contingent on achieving ZERO incidents. We truly believe this to be an achievable goal and we take the steps necessary to obtain this goal on every project.
Airco's Director of Safety & Health actively participates in aligning our safety program with all involved parties including the owner, client and sub-contractors. Airco develops and implements specific on-site safety plans to address the specific work activities of each project.
Project Safety Objectives
Airco instills safety vision, values, & policies in our leadership, employees and work plans
Safety roles & responsibilities are clearly communicated with all personnel.
Integrated safety principles are utilized with all work activities
Lesson-learned applications are captured for process improvement
Safety audits/peer reviews by Airco Superintendents, Site Safety Professionals, Director of Safety continues our pro-active approach to zero incidents and accidents.
Project Safety Orientations
Airco develops specific on-site safety orientation programs to familiarize all personnel with new & existing hazards involved with our jobs.
Safety orientation clearly communicates expectations from both Airco and Client for the project
Benchmarking with other Airco projects and similar industries